I read Carl Hiassen's Razor Girl after seeing several rave reviews, such as two in the New York Times ("irresistible"  and "elegant"), one from NPR ("hilarious"), and one in Kirkus Reviews ("unbridled fictional invention"). The book is currently no. 2 on the NYT hardcover fiction best-seller list.
I had read Hiaasen before, so I knew what sort of thing to expect. While the novel mostly delivered on expectations, I did not like the book so much as those reviewers. A few thoughts:
The book could be thought of as a kind of parody detective story, similar to The Big Lebowski. Donald E. Westlake and John D. MacDonald seem to be influences.
Hiaasen's characters are mostly stereotypes: the ruthless mob boss, the rapacious lawyer, the slutty gold-digging girlfriend (a favorite: there are a number of these), the weaselly Hollywood agent, the dumb-as-subsoil thug, the racist cracker, and so on. He disguises their conventionality through grotesque flourishes and exaggerations. Grotesquery is one of his strengths, but some experienced fiction readers might find this an insufficient alternative to actual character development.
The manic character exaggerations are matched by an overheated storyline. Together with the lack of character depth and story-oriented exposition, this gives the book a brittle quality.
Hiaasen is an efficient writer. His grotesque elements are made more effective by a clear, compact prose. He  has a talent for colorful compounds  — shitweasel, fuckwit, numbnuts, thundercunt, fuckwhistle, shitsucker, and so on.
This sometimes manifests in dialogue: "Baby, you kiss like a blowfish on batteries."
The best idea behind Razor Girl is a Duck Dynasty parody. A television reality show features four brothers who are presented as Louisiana poultry farmers. The kidnapping of the alpha brother by a crazed fan who as ransom demands being added to the show as a fifth brother is the fulcrum for the plot. The kidnapping occasions a crise de foi in the victim —an excellent concept, but Hiaasen never really gets sufficiently into the victim's head.
The bayou brothers are presented as Louisiana poultry farmers; in fact they are accordion players from Milwaukee. But as a former Wisconsonian, I can report there is rich material there that remains almost entirely unmined by Hiaasen, whose backstories are always sketchy.
The title concept, which alludes to car crashes perpetrated as a con by a young woman engaged in mechanical vaginal hygiene, is not as fascinating as Hiaasen appears to believe.
Hiaasen's heroes are stoners who love nature and sex and his villains are connivers who love money and sex. Mostly they fight over nature and money but sometimes they meet over sex.
Potentially the most interesting character could have been Buck Nance, "Captain Cock" of the Bayou Brethren clan, as he is the only character who undergoes any development over the course of the novel. Unfortunately, his development is sketchy.
The story arc did not contain many surprises, though Hiaasen certainly makes the details distinctive. This is a diverting book that you will probably want to read quickly so that it doesn't take up too much of your time.
Razor Girl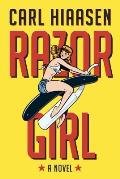 by Carl Hiaasen